It's all in the Timing
9/2/2022 (Permalink)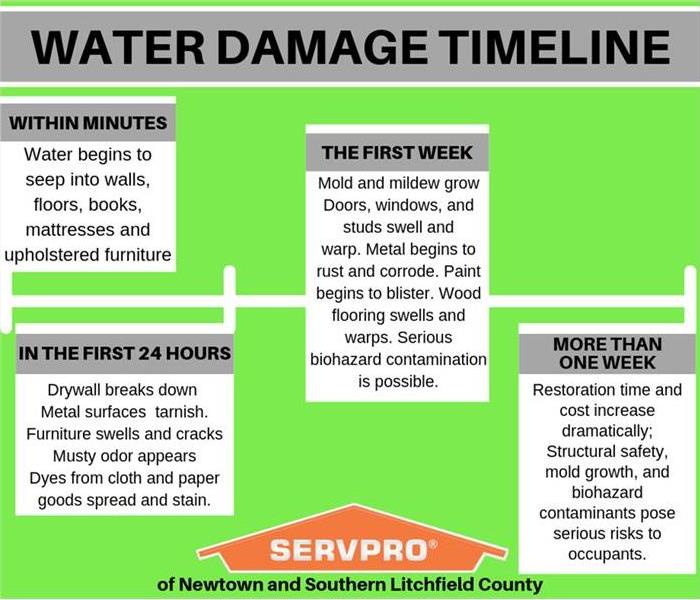 We realize that, at times, we may sound like a broken record.
"Call us immediately"
"Act quickly"
"Do not delay"
We admit that we stress this point repeatedly however, because it is so important, we probably won't stop talking about it. Why is getting help as quickly as possible such a consequential factor when you have a flood? In this blog post, we provide you with a water damage timeline to help you see how quickly a small flood can turn into a major problem.
Water Damage Timeline
In the First Hour:
Water will quickly move throughout the dwelling, saturating everything in it's path.
Stains or finishes that are on furniture that gets wet will be released. This can cause staining to the carpeting and flooring of your home. Additionally, any furniture that is moisture sensitive, such as antiques or unfinished materials, will be affected.
In particular, paper goods are vulnerable in the first hour. Due to their porosity, it doesn't take long for water to render books and documents unsalvageable.
Artwork that is hanging on your walls can be permanently damaged when water drips down the walls in that first hour.
The First 24 Hours:
Drywall, which is found on the walls and ceilings of most Connecticut homes, gets saturated and begins to disintegrate. Many people discover their water leak only after the ceiling is already on the floor. That's how quickly this can happen.
You will notice a musty smell and normal household odors grow stronger.
Any uncoated metal surfaces, which are vulnerable to moisture in the air, will begin to tarnish.
Your furniture may begin to show signs of damage. In particular, laminated furniture and flooring will begin to swell and crack due to the moisture.
Free-floating laminated flooring may also begin to pop out of place due to swelling.
48 Hours to 1 Week:
The 'clean water' situation will have been upgraded to a 'gray water' intrusion.
You will notice an earthy smell in the home, which is caused by standing water as well as building materials and contents that have begun to decay.
Because of the high moisture levels, fungi, mold and mildew will begin to grow at this time, especially on porous materials such as sheetrock and carpeting.
Wood building materials begin to show signs of damage as they swell, warp and split. You will notice this on window frames, wall moldings, the interior doors in your home and even studs and joists at this time.
Rust and corrosion will begin to occur on metal items.
Electronics in the home will begin to malfunction.
Wood flooring and furniture begin to swell from the saturation.
The Indoor Air Quality in the structure is compromised and health hazards can become an issue. Occupants of the home who are at risk due to health issues may begin to experience negative health effects.
More Than 1 Week:
A 'black water' situation is most likely the case at this time due to the growth of bacteria and other harmful contaminates in the home.
Mold spores will spread quickly and begin to break down natural materials, wallpaper, wood paneling, and other building materials
The structural safety of the home is in question as wood building materials are compromised.
The air quality in the home can pose a danger to all inhabitants.
The costs associated with your insurance claim exponentially rises. The demolition and replacement of, rather than the restoration of, damaged materials becomes necessary.
Our water damage restoration crews will be required to wear personal protection equipment in order to work in your home.
If you have a water leak in your home, give us a call as soon as it is discovered to minimize the damage to your home.