About SERVPRO of Newtown and Southern Litchfield County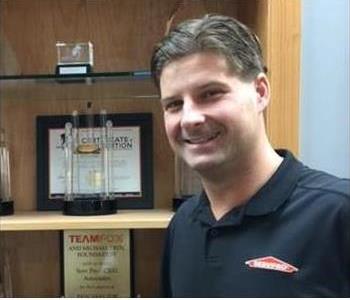 Gregory J. Geaski
Owners of SERVPRO of Newtown and Southern Litchfield County
Disasters don't wait for business hours to damage your home or business, which is why the team at SERVPRO of Newtown and Southern Litchfield County is ready to respond to your call 24 hours a day. We understand that having a home or business flooded or full of smoke is stressful to our customers and we strive to make the restoration process as smooth and easy as possible, with the least disruption to your life.
We offer full restoration services including the cleanup and restoration of your home or business after water, fire, smoke and biohazard damage. Our team is IICRC trained in mold and mildew mitigation and is Fairfield and Litchfield County's leader in mold remediation. Not only is our crew trained to restore your home, we also hold a contractor's license from the State of Connecticut and will rebuild your home or business after the clean up is complete. Whether your structure requires a few walls replaced, wood floors installed or a whole new kitchen, our building services team is here for you.
SERVPRO of Newtown and Southern Litchfield County is owned by Greg Geaski, a Connecticut native and resident. After earning his bachelor's degree in Mechanical Engineering from Western New England University, Greg began working for SERVPRO in 2005. He found that working in the restoration industry gave him the opportunity to help others during difficult times. Impressed with the possibilities that franchise ownership presented, Greg purchased his first franchise in 2008 and has since acquired two additional franchises. From the beginning, he has worked to establish a strong core team of employees who have also been professionally trained both through certification classes and on the job experience.
Our goal on every job is to help guide our customers through the restoration process from start to finish. Our office staff will know you by name and our property managers are available should you have any concerns or questions. We show integrity and professionalism on every job that we work on. We take pride in the services that we perform and in the quality of our dedicated employees.
Our staff is highly trained in property damage restoration. From initial and ongoing training at SERVPRO's corporate training facility to regular IICRC-industry certification, rest assured our staff is equipped with the knowledge to restore your property. With a nationwide system of qualified franchises, no damage is too large or too small for SERVPRO of Newtown and Southern Litchfield County.

If you would like to schedule service for your home or business, please call today!

Serving you since 1967, SERVPRO is the cleaning and restoration brand you know and trust.
Insurance and Payment Information
For a stress free claims process, SERVPRO works with your insurance to help manage the insurance process and paperwork.
Certifications
ASD - Applied Structural Drying Technician
FSRT - Fire & Smoke Damage Restoration Technician
HST - Health and safety Technician
IICRC Certified Firm
RRRP - Lead-Based Paint Activities and Renovation
WRT - Water Damage Restoration Technician
Awards
Team Fox for Parkinson's Research
Chairman Gold
Wounded Warrior Project