Fire Preparedness with your Pet in Mind
9/1/2022 (Permalink)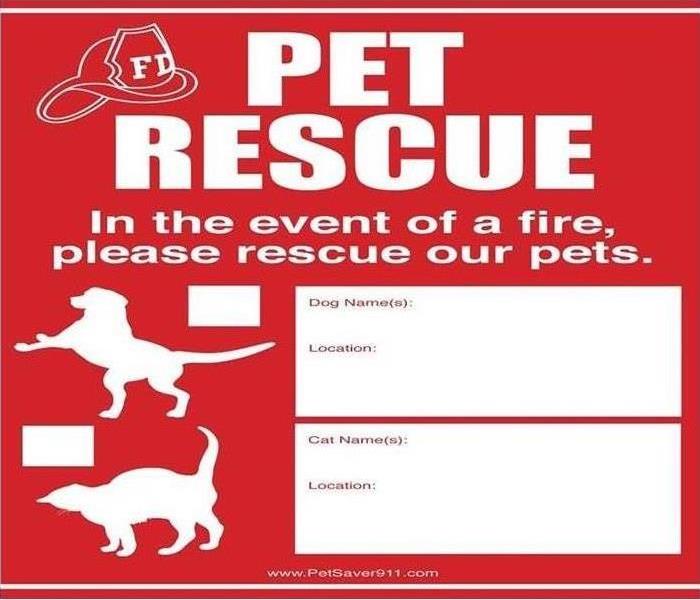 Not only are house fires devastating because of the damage they inflict to your home, but many people also lose their pets in such fires. There are safety precautions that can be taken to help protect your pets in the case of fire.
If you leave your pet home unattended (whether for an extended period of time or daily while you are at work), consider installing a monitored smoke detector. If the alarm goes off while you are away, emergency services will be alerted.
Also consider placing a pet rescue sticker on the door or window. Such stickers inform emergency responders information about the pets inside of your house, such as how many and what kind are inside.
During your household fire drills, include your pets. Know where your pet may hide in the event that they are scared of the fire itself, the smoke alarms and fire trucks. Practice your drill with your smoke detectors ringing so that your pet will associate the noise with the evacuation routine.
Have a plan in place. Designate a family member who is responsible for each pet as well as a backup. If your pet cannot be safely located because of smoke or flames, leave windows and doors open as an escape route. Always have identification tags on your pet, as they sometimes run away out of fear. Tags will ensure their return if they are found.
Nobody expects to experience a house fire, but having a safety plan in place will help keep your fur baby safe in the event that you do. If you have a house fire in the New Fairfield, CT area, give SERVPRO of Newtown and Southern Litchfield County a call at (203) 743-5362.