Ways to Avoid a Sewage Backup in Your Newtown Home
2/8/2021 (Permalink)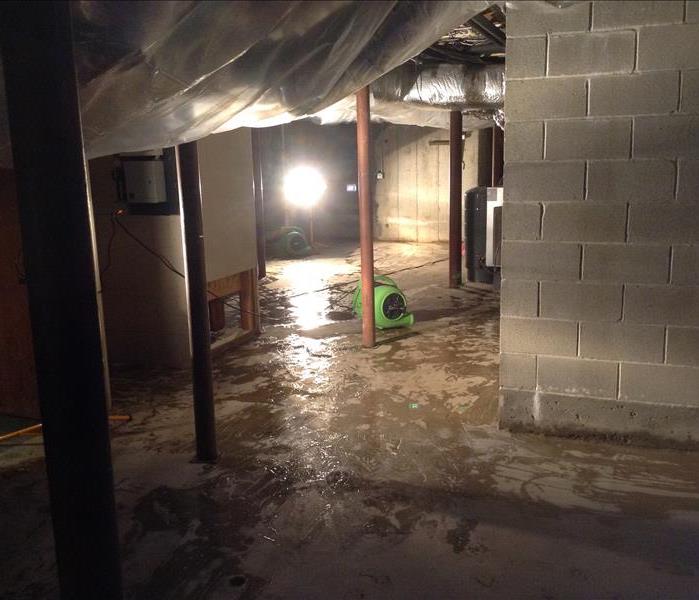 Sewage backups are caused by a variety of reasons – from heavy rainstorms to clogs or blockages in the sewer lines. When the sewage system becomes overloaded, the waste can get forced back up through the pipes and into you house, typically though a basement drain or your toilet bowl. We have even responded to calls from homeowners in which the backup had forced its way through the shower head! Not only does a sewage backup cause your home and belongings to be flooded with smelly waste, it also creates dangerous conditions in your home due to the pathogens and microorganisms present in the water.
Although not all septic back ups are avoidable, homeowners can take some preventative steps to reduce their risk.
Properly discard cooking oil and grease - Never wash cooking oil or grease down the drain. Even if rinsed with hot water, grease solidifies once it cools and will accumulate in your drains, drain lines, or the main sewer lines, eventually causing a clog. The same goes with small food scraps, egg shells, coffee grounds, old contact lenses, rocks, hair, or similar items. An old coffee can makes the perfect receptacle for hot grease.
Flush toilet paper only. The only items you should flush down your toilet are human waste and toilet paper, which is designed to disintegrate quickly. Even items such as paper towels, medicine, wet wipes and feminine products should never be flushed.
Replace your line with plastic pipes. One of the causes of sewage blockages are tree roots that have snaked their way through the joints and into the line. Plastic piping, as opposed to clay or cast iron piping (used in older homes) has impervious joints that tree roots cannot penetrate.
Keep an eye on large trees growing near your sewage lines. Tree roots can cause movement and damage your lines, causing a backup.
Septic tank waste is considered black water and contains pathogens that are harmful to your health and always requires professional mitigation. SERVPRO of Newtown and Southern Litchfield County crew is available 24/7 to help. Our IICRC certified specialists will inspect your home, contain the affected area and place it under controlled air flow. Once we have those steps established, we will extract the contaminated floodwater and sanitize your home in accordance with OSHA and health regulations. Our goal throughout the process is to do the job right and make your home safe once again for your family.